~ ALUMÍNIOS ANDALUCÍA ~
Aluminios Andalucía, manufacturer and leader in surface treatment of alumnium, is an International company based in Fuenlabrada (Madrid, Spain).
The group has various divisions, specializing in processing of alumnium and manufacturing of PVC (adhesive film) for sectors as construction, transport and industry.
Thanks to experiences gained since 1975, Aluminios Andalucía offers customized solutions to specific requests of each client, emphasizing on technological innovation and continous development of new coatings and finishes.
Aluminios Andalucía relies on internationalization. With an export rate of 65%, our products are sold in the four continents, garanteeing an efficient supply chain and a more productive process.
Visit our Youtube Channel: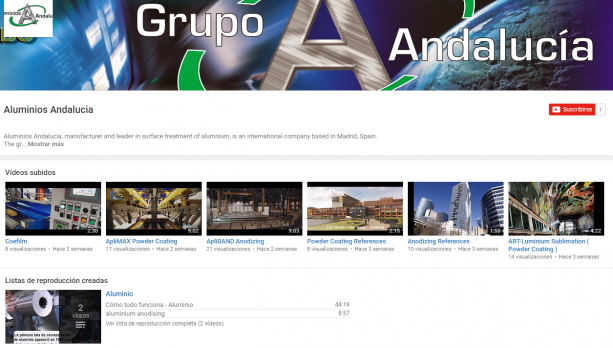 QUALITY
Aluminios Andalucía has set the goal of achieving a leadership position in the market niches in which it is present adjusting the standards of quality and technology.
Certifications help us constantly test our business processes. The requirements of our customers are constantly changing, therefore we make improvements and adaptations according to these requirements with flexibility and speed. The quality of our service is our fundamental principle.
Innovative products – coil coating and anodizing
Worldwide market presence.
High perfomance products.
Our main product brands 
ALUMINIOS ANDALUCÍA
C/Fabero, 10
Pol. Ind. Cobo Calleja
28947, Fuenlabrada, España


  info@apliband.com