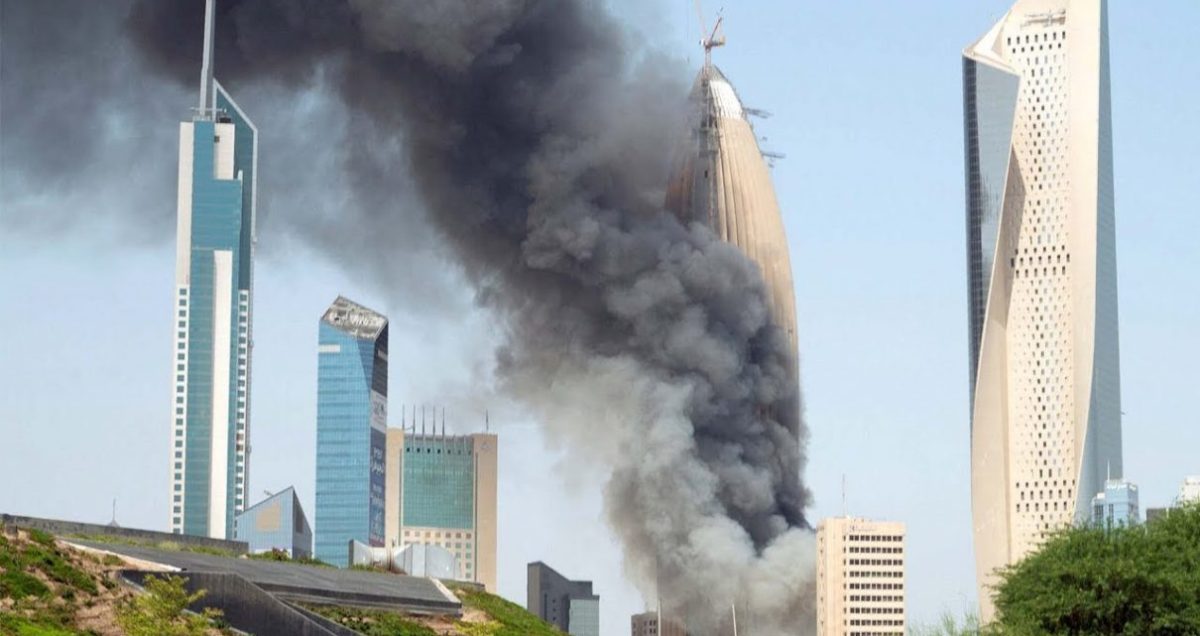 A skyscraper under construction for the National Bank of Kuwait has caught fire, sending 2,500 workers fleeing from the flames. The fire broke out in Kuwait City and sent thick black smoke up into the sky. There were no reports as to what might have caused the blaze and Kuwaiti civil defense officials did not immediately comment on it. The bank on Twitter described the blaze as a "partial fire" and said firefighters had extinguished 90 percent of it.
(The 62-story tower will be some 300 meters — about 980 feet — tall on completion).
This type of facade creates a dangerous "chimney effect" and wrap the exterior of the building in flames within a short time.
The same coating of aluminum plates with flammable polyethylene/ Composite panels are similar to those linked to massive fires in Dubai, Australia and France in recent years.
Why solid Aluminium should be chosen rather than Composite.
A composite panel of consists of: 2 aluminium layers of each 0,5mm (total of 1,0mm) The core has a thickness of 3,0mm!!! Aluminium is non-combustible. And: 75% of the product is Polyethylene (PE) How about the Polyethylene? Above a temperature of 100°C, Polyethylene starts to get soft, shrinks and then melts.
Parallel to this process, the core loses its stability and the front sheet (outer skin) of the Aluminium shears off. Polyethylene is still adherent to the front-skin and
keeps on burning due to the now increased availability of fresh air.
But: In case of Solid Aluminium, this does not burn! Aluminium does not develop poisonous smoke or gasses.
A solution with long durability is: pure Aluminium façade sheets of 3mm.
Aluminios Andalucía offers this material (in two finishes; Anodized + Powder coated).
For further information, on our Product range of Solid Aluminium and possibilities for Façade cladding, please do not hesitate to contact us, at: lisejuul.sales@apliband.com